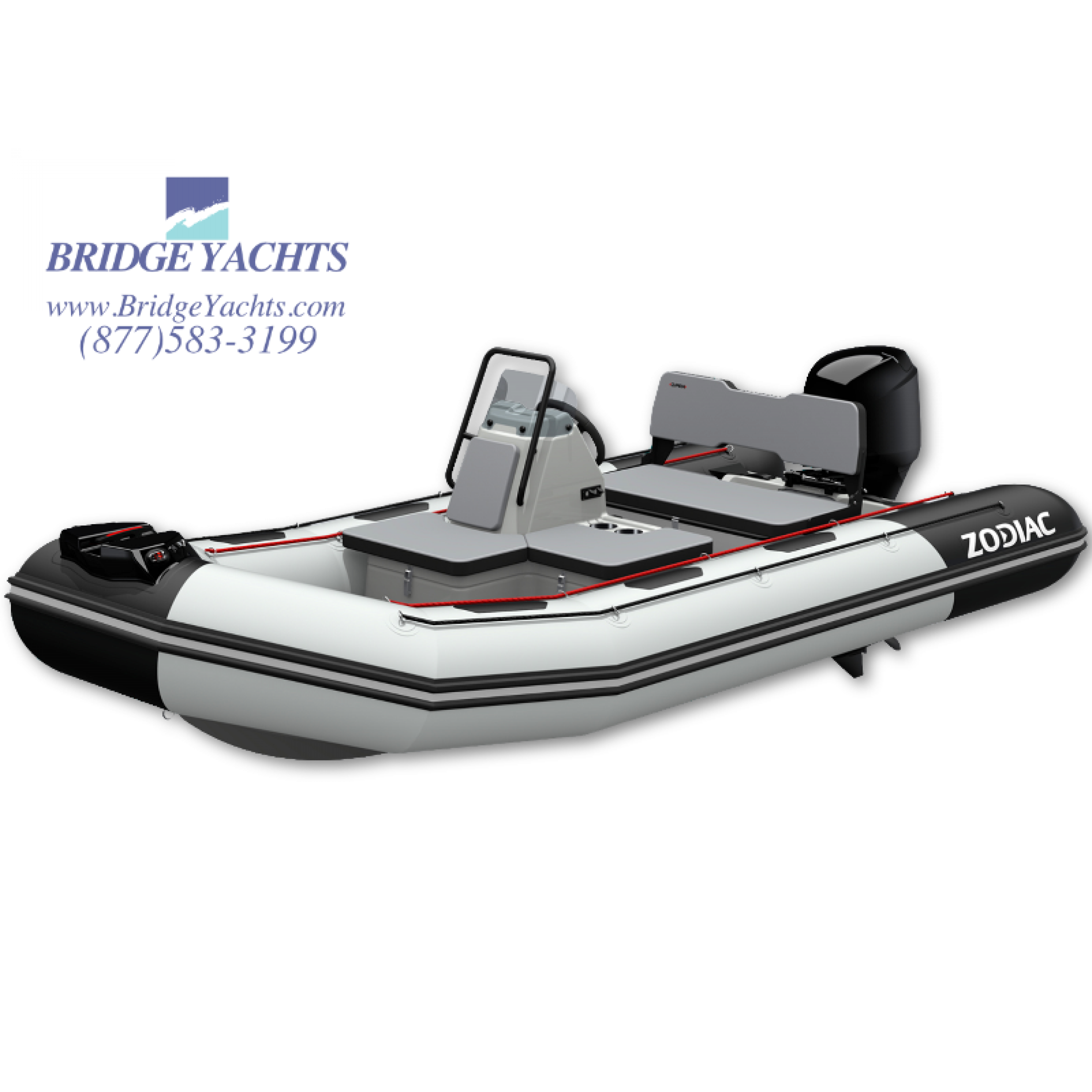 OUT OF STOCK


This is the boat you've been waiting for...
First and foremost, the Open Series (4.2+) use Zodiac's patented easy tube removal system providing unmatched resale value and ease of cleaning/service.
The Zodiac Open Series is the newest release from Zodiac NA. It offers deluxe comfort, superior quality, and unmatched ride performance. With the deep-V fibreglass molded hull Zodiac went back to their roots with focus on ride quality and performance. The double-wide helm bench with backrest and ample storage, fuel compartment, bow locker, and deluxe colour.
The Open 4.2 Rib provides upholstered seating for up to 6 people. Combined with the maximum power rated outboard the included Suzuki EFI 50hp provides the greatest performance results.
Features:
Strongan Duotex PVC
Slide on, slide off replaceable tube
Deep-V heavy duty fiberglass hull construction
Fuel tank – 12 gallons
Molded fiberglass interior seating, console, storage, and bow step with roller and cleat
Bow storage locker
Chambers: Main tube: 3
Dual lifelines on tube, inner and outer
Seating for 6 people
Mechanical Steering
Full rub strake and tube top non-skid patches
Equipment:
2 paddles
lifting points
Anchor/Mooring chocks on bow
Double pilot/co-pilot seat
Foot pump
Cup holders (2)
Storage in console
Owner's manual
Passenger seats
Repair kit
Steering console with steering wheel and grab rail
RIGGED EQUIPMENT INCLUDED

Suzuki Tach/Monitor Gauge
Suzuki Trim Gauge
Suzuki Aluminum Water-Grip Prop
Suzuki Fuel Water Separator
Deka 24 Series Starting Battery
Fire Extinguisher 5-B.C.
2x Cup-Holders
Bow Cushion

Navigation Lights



2x USB Plugs
Battery Switch
Bilge Pump
POWER
Maximum 50HP Propulsion :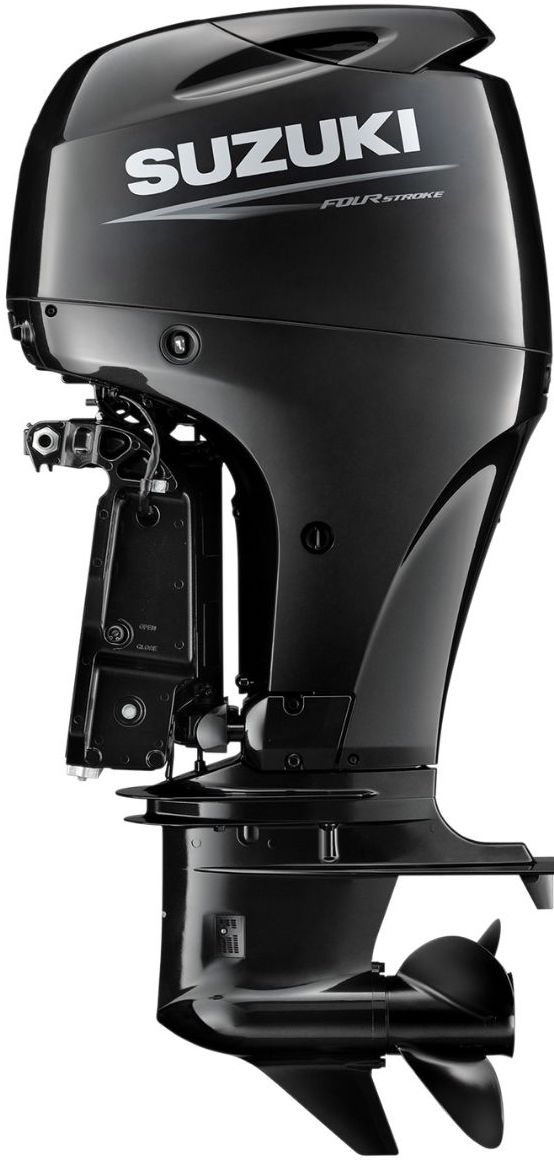 A REVOLUTION IN INNOVATION
Delivering Superior Fuel Efficiency and High Performance In A Lightweight Package. Engineered to deliver fuel-efficient operation in a compact and light weight design, the DF50A utilizes many of the advancements that Suzuki has pioneered over the last decade. This three-cylinder engine with a four valve DOHC design is combined with Suzuki's Lean Burn Control System to deliver high-tech performance with efficient operation and top level fuel economy. New DF50A models also sport the optional Suzuki Troll Mode System.
COMPACT DESIGN
Suzuki engineers are known for creating some of the most compact four stroke outboards in their respective classes. With the DF50A, they started with a clean slate redesigning every part and component incorporating the knowledge and technical advancements gained over the last ten years to create even lighter, more compact outboards.
LEAN BURN CONTROL SYSTEM
To get the most out of every drop of fuel, Suzuki engineers developed the Lean Burn Control System on the DF50A, which enables the engine to operate on a lean air-fuel ratio or a thinner mixture of fuel. The system controls the air to fuel mixture by predicting fuel needs according to operating conditions. It delivers its benefits over a wide operating range providing significant improvements in fuel economy from low speed operation well up into the cruising range.
TILT LIMIT SYSTEM
The DF50A is equipped with a tilt limit system that is designed to protect the boat from damage that can occur when tilting the outboard. The system incorporates a tilt angle sensor that functions as both a tilt limit and trim sender and uses a step-free, continuous type limiter that makes installation of the outboard possible on nearly any type of boat.
CLEANER, MORE EFFICIENT OPERATION
With Suzuki's Easy Start System, featured on the DF50A, all you need to do is turn the key and release. The starter system does the rest, staying engaged until the engine starts. Smoother and improved starts delivered by the Easy Start System offer more efficient combustion, and greater fuel economy.
MECHANICALLY EFFICIENT DESIGN
Suzuki engineers looked for ways to reduce mechanical loss as a way to improve efficiency in the DF50A. A specially designed oil pump delivers greater mechanical efficiency allowing oil to flow through the lubrication system with less resistance. This, combined with reduced mechanical loss in other areas of the engine contributes to better fuel economy.
SELF-ADJUSTING TIMING CHAIN
Suzuki's self-adjusting timing chain is featured on the DF50A which is the first outboard in the 44.1kW (60PS) class equipped with this maintenance free feature. The chain is oil-bathed and features an automatic hydraulic tensioner that keeps the chain properly adjusted at all times for maintenance free operation.
*Product data and information provided by manufacturers may change without notice.
Inflatable Specs
Overall Length
13' 9"
Overall Width
6' 3"
Buoyancy Tube Diameter
18"
Weight
lbs
Passengers
6
Max Horsepower
50 HP
Transom Height
20"