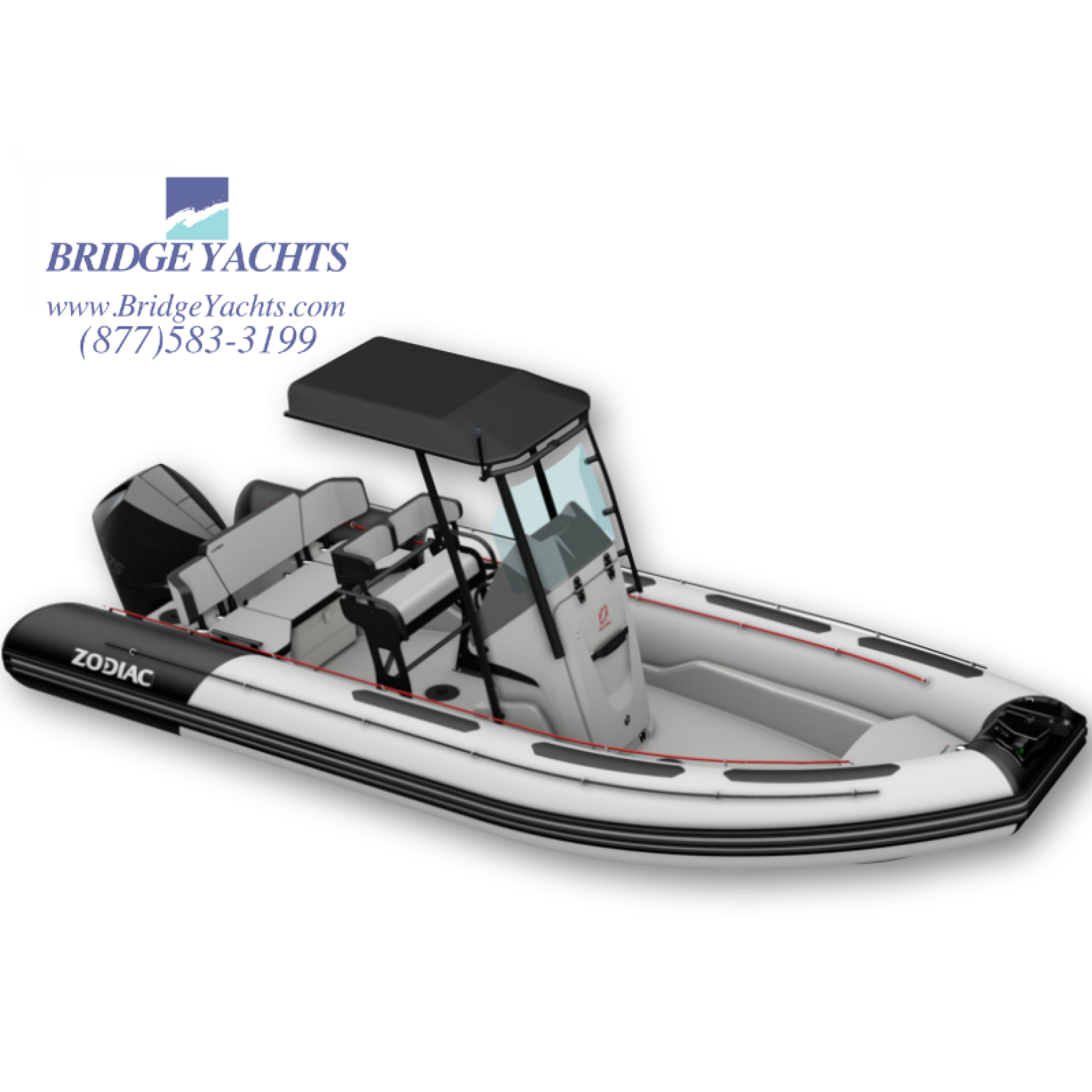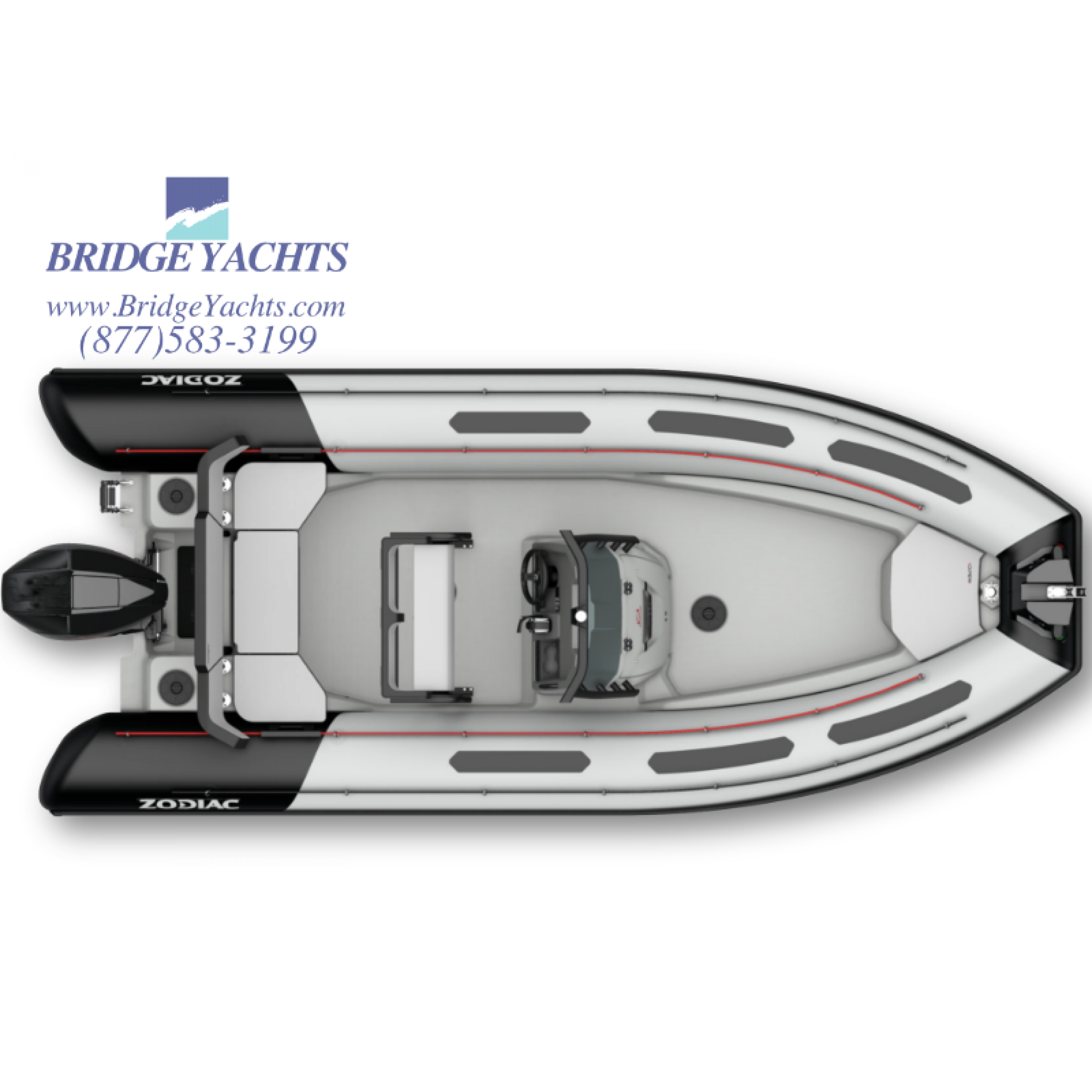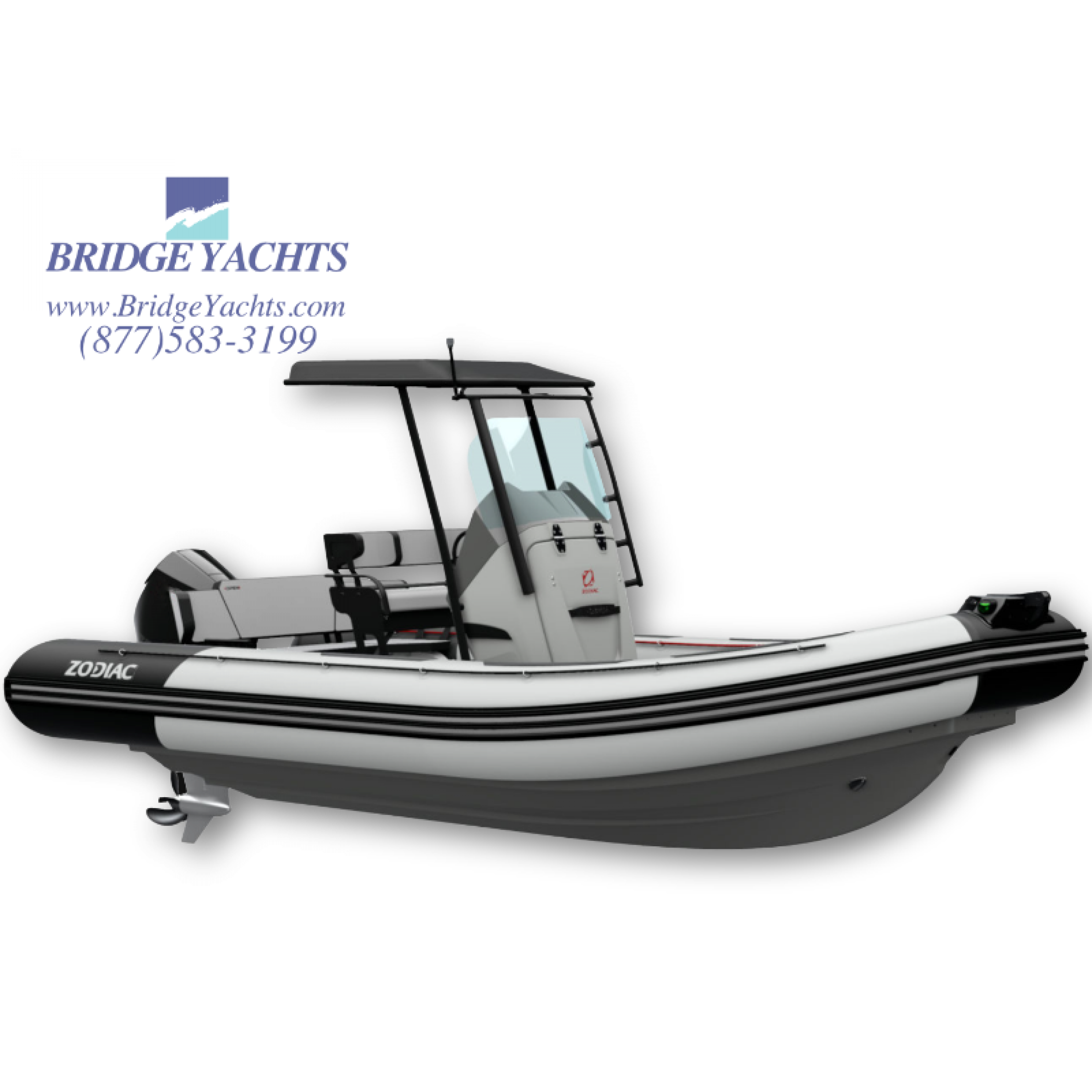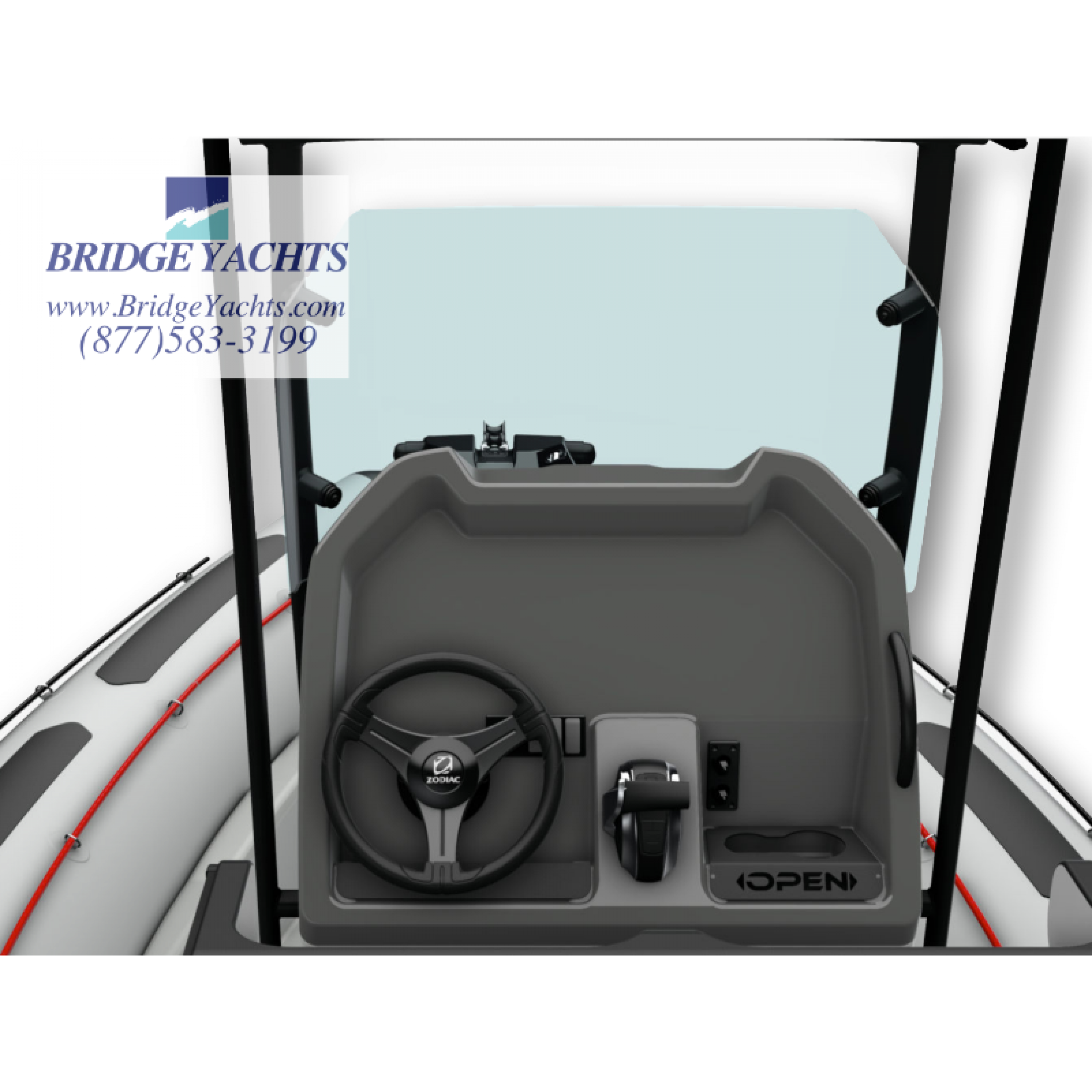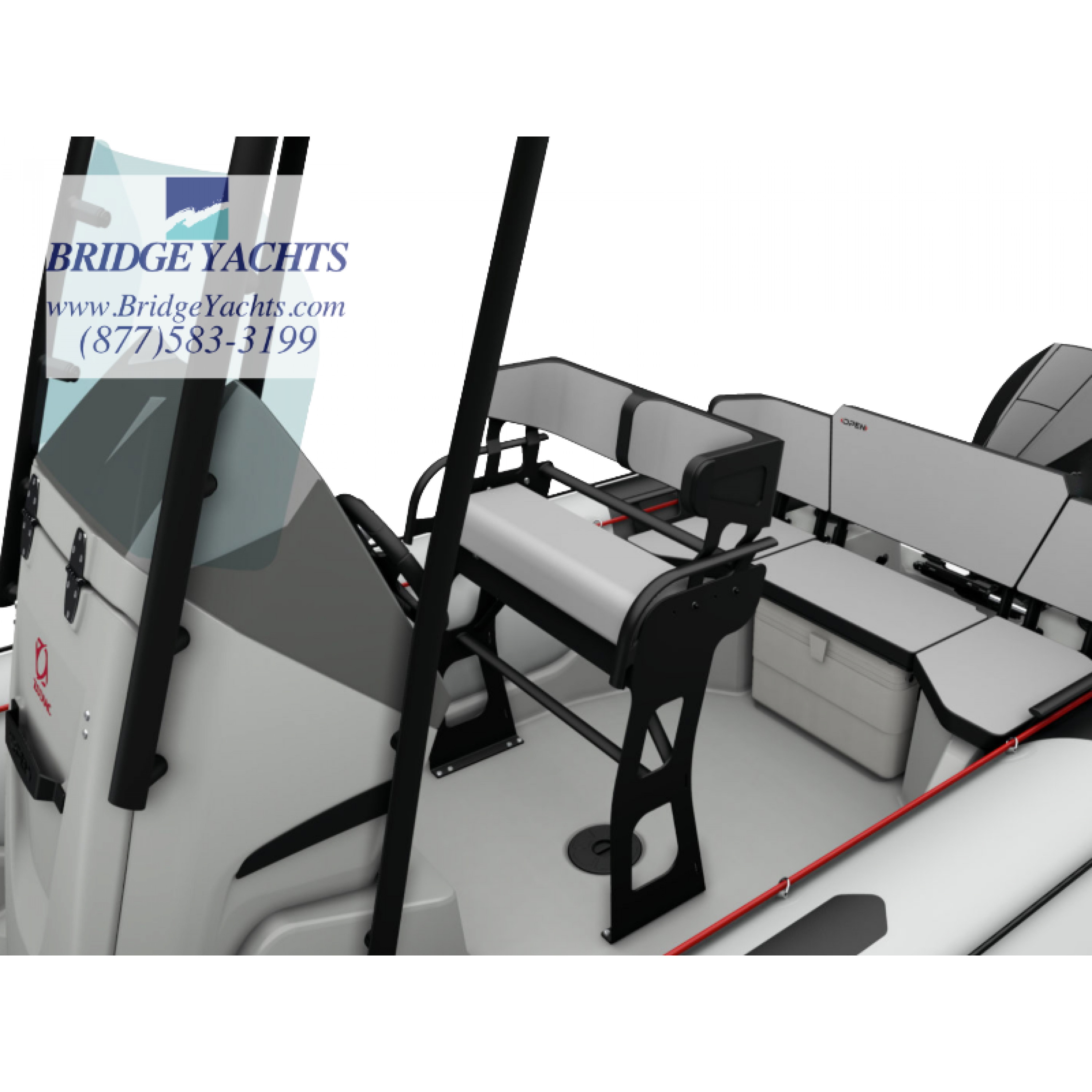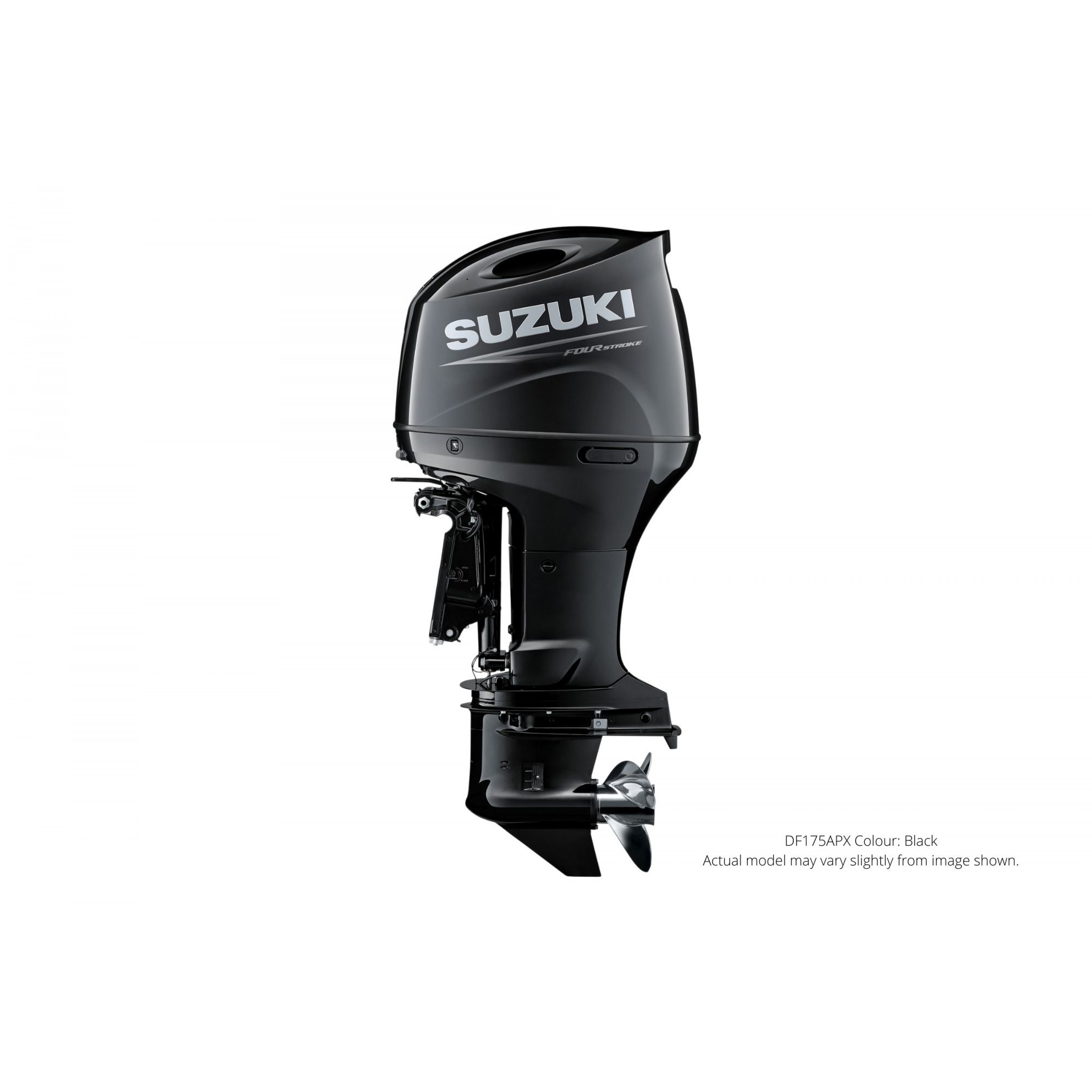 This is the boat you've been waiting for...

First and foremost, the Open Series (4.2+) use Zodiac's patented easy tube removal system providing unmatched resale value and ease of cleaning/service.
The Zodiac Open Series is the newest release from Zodiac NA. It offers deluxe comfort, superior quality, and unmatched ride performance. With the deep-V fibreglass molded hull Zodiac went back to their roots with focus on ride quality and performance. The double-wide helm bench with backrest and ample storage, fuel compartment, bow locker, and deluxe colour.
MODULARITY
Swiss army knife, at ease in all activities, the Open is considered as the seas cross-over. The versatility of this RIB has been worked out down to the last detail,
to make you living your sport passion with no limit. Thanks to its design, it is easily transportable, even within flated tube, and fits to all your passions :
getaways, fishing, waterskiing, wakeboarding, sunbathing etc. On the deck, turn your boat in a seating space or free some space for a fishing trip!
PERFORMANCE
With its excellent sea-keeping performance – thanks to its deep V-hull and its optimized deck plan for a better circulation on board, the Open offers an
exceptional navigation comfort. It'sthe perfect balance between performance and comfort. A boat conceived to safely share your passion for the sea with
friends.
STORAGE
Storage optimization under the deck, accessible by the tilting console, offers a wide space for all the equipment (ski, fishing, diving, security…). Choose the
activity you want to practice according to your mood.
HULL & DECK :
1 Bow bitt /2 aftcleats, 1 Bow D ring and 2 towing rings, 2 bailers,
Fairleads, Lockable mooring compartment, Polyester deep V-hull,
Ski and wake locker, tilting console.
COMFORT :
2 Storage compartments with 12V/USB plug,
Aft bench 3 seats with modular seats,
Bolster with integrated storage, Spacious dashboard, Wrapping windshield.
Tube :
Removable tube, Double hand line, Easy push valves,
Large defecting rubbing strake, Polyester bow davit+tilting sheave.
OTHER :
1 Battery switch, 54L cooler under back seat,
Inflator with manometer, Repair kit / owner's manual.


POWER
Unmatched Displacement Propulsion :
Maximum powered with the "big block" award winning Suzuki DF175AP series outboard. Feature rich including Suzuki's precision control deluxe shifting (SPC). Take ease when mooring or navigating in tight spaces with easy throttle & shift adjustment's thanks to the digital upgrade over mechanical controls.
This big block inline four-cylinder four-stroke engine with a massive 2,867cm3 displacement. The block is topped with a DOHC powerhead that provides four-valves per cylinder for high performance. While the large displacement allows both to deliver exceptional acceleration and velocity, Suzuki engineers made sure that the outboard's final dimensions are as compact and lightweight as possible. These outboards feature some of the best of Suzuki's advanced technologies that have been developed to extend engine performance.

Compression and displacement each play important roles in delivering performance and power output. Displacement has a direct effect on acceleration and torque so a bigger displacement is generally going to deliver more of both. Higher compression ratios allow the engine to get more output out of the combustion process resulting in noticeable improvements in performance and power. Drawing on our extensive motorsports experience and expertise in building race engines, Suzuki engineers have combined a 2,867cm3 displacement (the largest in each outboard's class) with a high compression ratio of 10.2:1 to obtain great performance from these compact engines.
Semi-Direct Air Intake :
Underneath the modern upswept engine cover are a number of function-focused features that enhance engine performance. The DF175AP is equipped with a Semi-Direct Air Intake system that brings cooler air directly into the multi-stage induction module. Engines that breathe cooler air can operate more efficiently resulting in greater acceleration and top-end speed.Covers also have ports on the top that allow the rotating flywheel to push warm air inside of the cover to the outside helping to reduce temperature inside of the cover.
SPC :

Suzuki Precision Control is a technologically advanced computer-based control system that replaces the mechanical control cables found in conventional control systems with electronic wiring that eliminates the source of friction and resistance. While you enjoy smooth throttle and shift operation with minimal friction, the system's computer is processing and transmitting commands in real-time to actuators at the engine that deliver precise throttle control with smoother, decisive shifting. This is most evident in the low rpm range where operation is noticeably smooth and accurate. When combined with Suzuki's Lean Burn Control System it allows control of fuel and airflow to boost the limit of the controllable revolution range improving fuel economy over a wide operating range. Suzuki Precision Control also features built-in systems that help guard the engine and drive against damage due to mishandling, and its design and simple wiring make installation easy, reducing the time required for rigging and adjustment.
Counter Balancer System :
Inherent characteristics common to in-line four-cylinder engines when operating at high rpm is a secondary vibration that is directionally in line with the piston's movements. To neutralize this vibration, Suzuki engineers utilize a secondary balancer system that counters the piston's movement with a horizontal motion. To achieve this, the balancer is divided into left and right sections each rotating in an opposite direction at twice the speed of the crankshaft, effectively countering the secondary vibrations and producing smoother engine operation.

Resonator :
The engine's exhaust system is a well-known source of engine noise, but another, often overlooked source is the intake manifold. Air being sucked into the intake manifold at high velocities can generate a harsh sound. The DF175AP incorporate an air intake resonator that reduces such noise keeping operation exceptionally quiet.

Offset Drive Shaft :
Pioneered by Suzuki, the use of the offset drive shaft on four-stroke outboards has long been utilized to reduce the size of the outboard. Found on all Suzuki four-strokes from the DF70A and up, this design positions the crankshaft in front of the drive shaft simultaneously moving the outboard's center of gravity forward. While the design contributes greatly to the outboard's overall compactness and increased power performance, it also moves the engine's axis of inertia, the point where engine vibrations are at a minimum, up over the upper engine mount, thus greatly reducing vibration. These outboards also incorporate two-stage gear reduction designed to take maximum advantage of the power produced by these high performance engines. Providing a final drive ratio of 2.50:1—the largest you can find in either of these outboard classes—it delivers powerful torque for quick acceleration and great top-end speed.
Suzuki Multi-Function Gauge (SMG4) :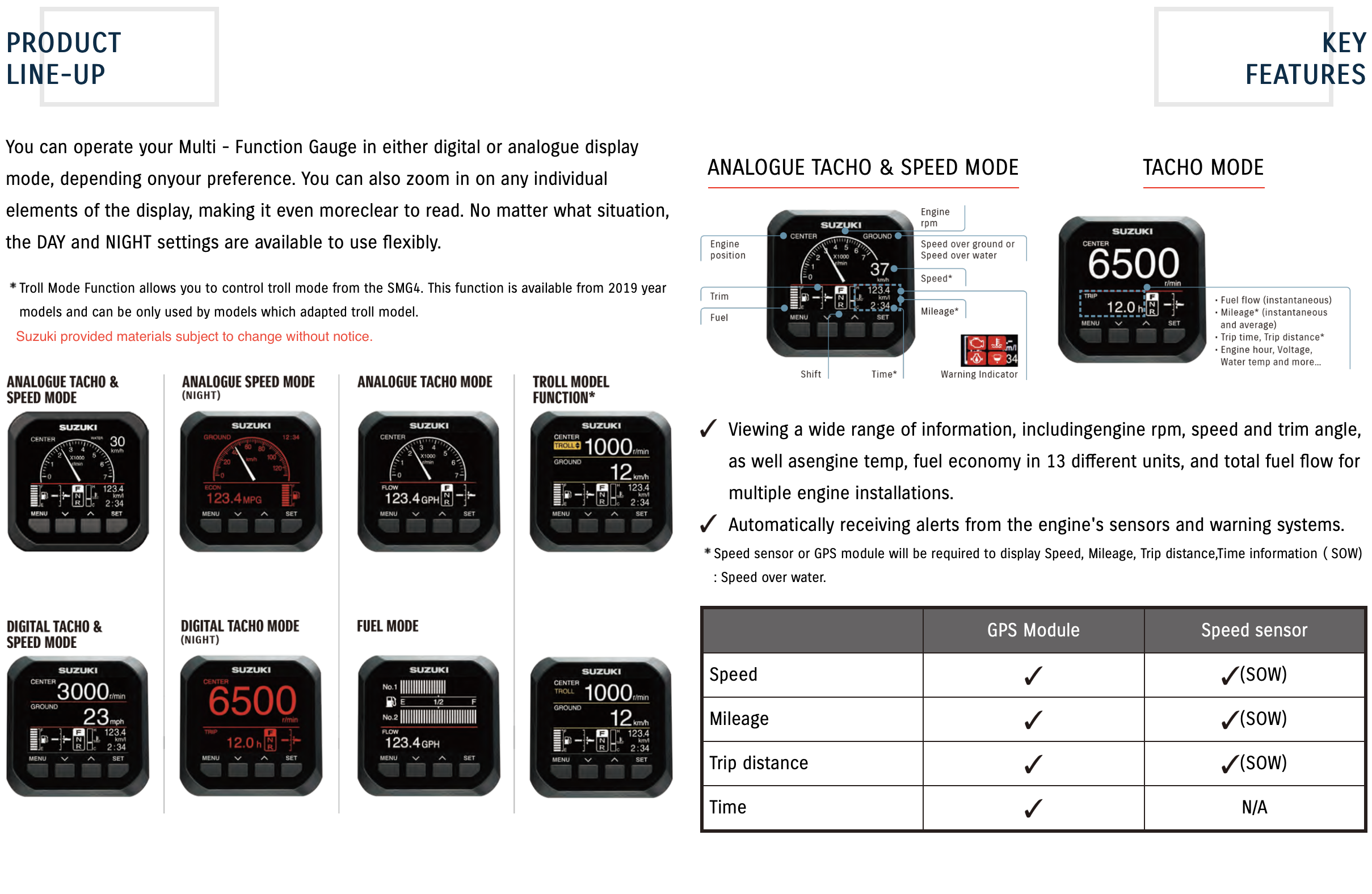 Suzuki Diagnostic System Mobile (SDS Mobile) :
SDS Mobile works in tandem with our new SMD/SMG. Simply download the app, which is available on iOS and Android, to your smartphone: you don't need a separate device.
Output the data from the diagnosis menu on the display, and you'll see three QR codes appear.
Scan them with your smartphone, and you instantly upload data including the engine number, number of hours since the last oil change, total engine hours and hours of operation at different rpm.
The data is stored in your smartphone in a file that you can email straight to your dealer from the app.


ZODIAC FEATURES INCLUDED
6.5 T-Top (Installed)
Hydraulic Steering
Bow Cushion
Bolster Backrest
Navigation Lights
12v USB Plug
Battery Switch
Bilge Pump
EQUIPMENT INCLUDED
Digital SPC Binnacle Shifter
SMG4 Suzuki Multi-function gauge
Suzuki Stainless Steel Water-Grip Propeller
Suzuki Troll Mode Function
Suzuki Fuel Water Separator
Deka 24 Series Starting Battery
Fire Extinguisher 10-B.C.
*Product data and information provided by manufacturers.
Inflatable Specs
Overall Length
20' 0"
Overall Width
8' 4"
Buoyancy Tube Diameter
23"
Weight
lbs
Passengers
15
Max Horsepower
175 HP
Transom Height
25"