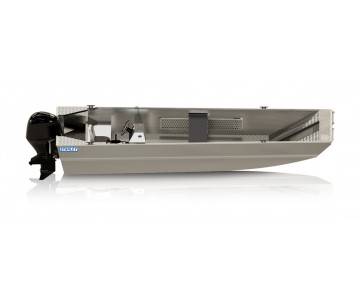 IF YOU FISH, HUNT OR TRAP YOU REQUIRE A TOUGH,
MULTIPURPOSE, NO-NONSENSE BOAT
The Stanley Predator is built for the avid outdoors person and their gear. Whether you need to transport an ATV, lawnmower, or other sporting equipment, the Predator makes for easy transport and loading/unloading.
Available in 18' and 20', the Predator comes standard with our trademark non-slip self-bailing floor and 6' removable loading ramps, making it the ultimate mini-barge for transporting cargo, equipment, gear, and passengers to camp. The modified V hull provides a stable and comfortable ride- performance is never sacrificed- even when fully loaded.
The Predator's fully welded motor bracket can accommodate from 70 to 115 HP.
Don't let its compact size fool you- the Stanley Predator is a low-maintenance, capable workhorse that's designed to last.
There are no products to list in this category.