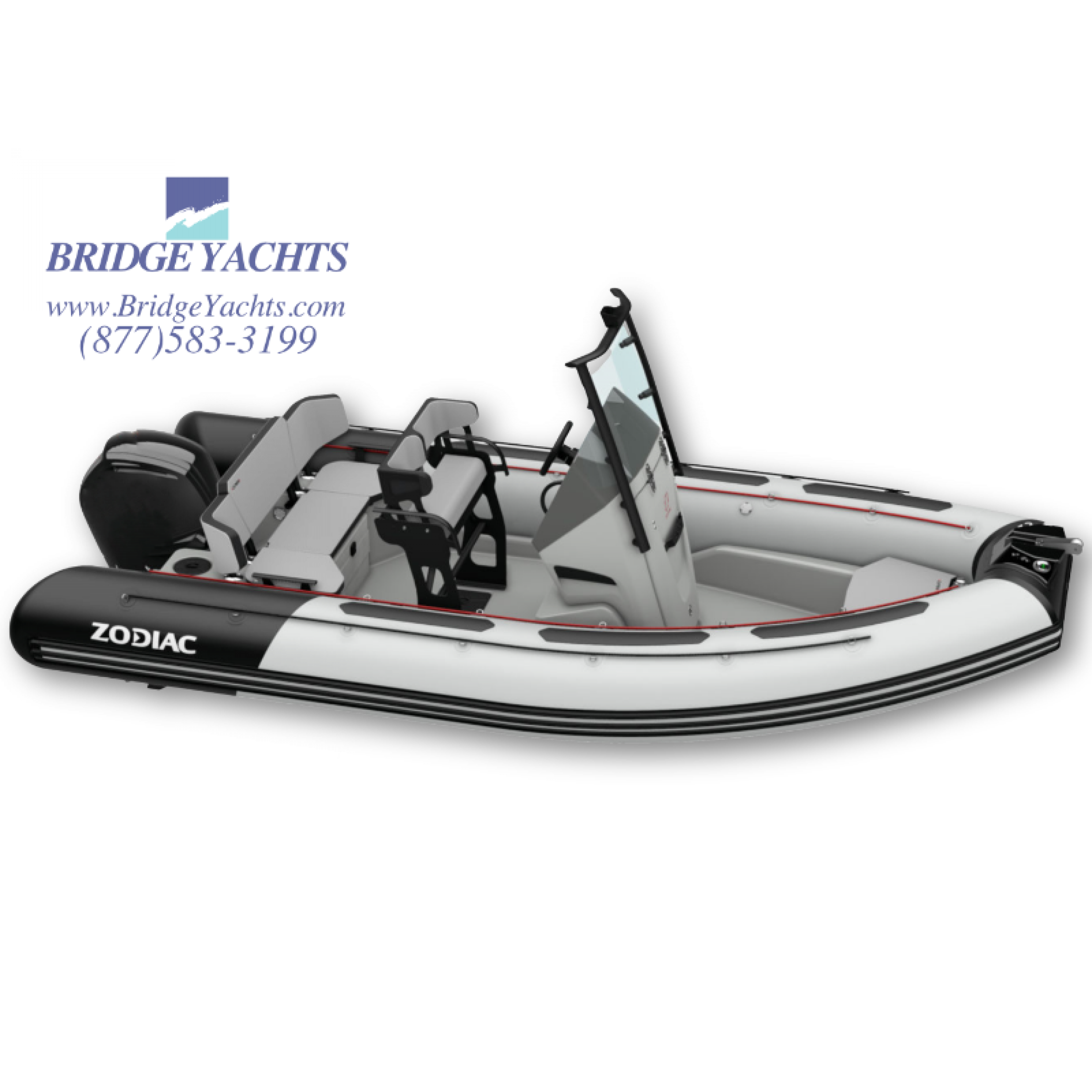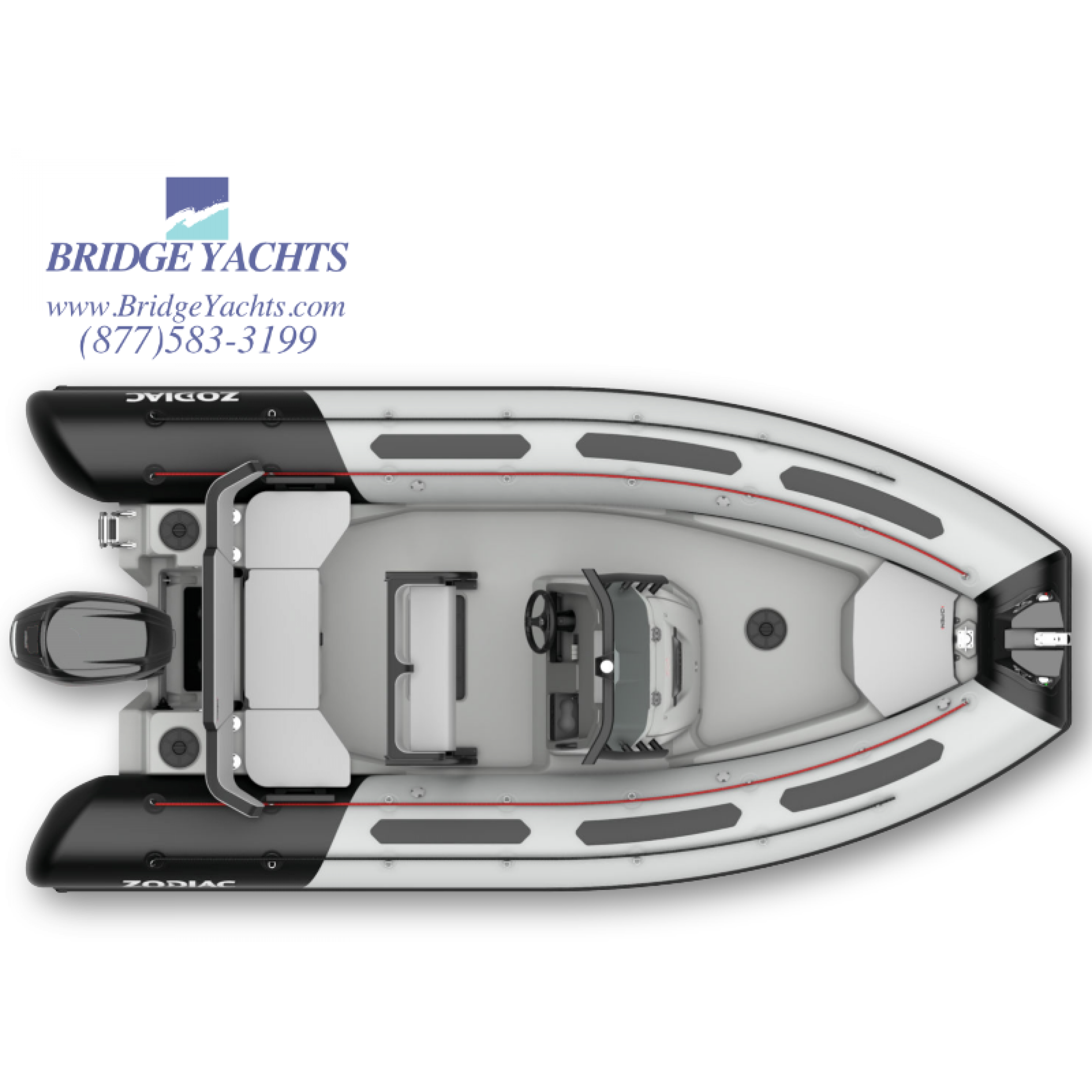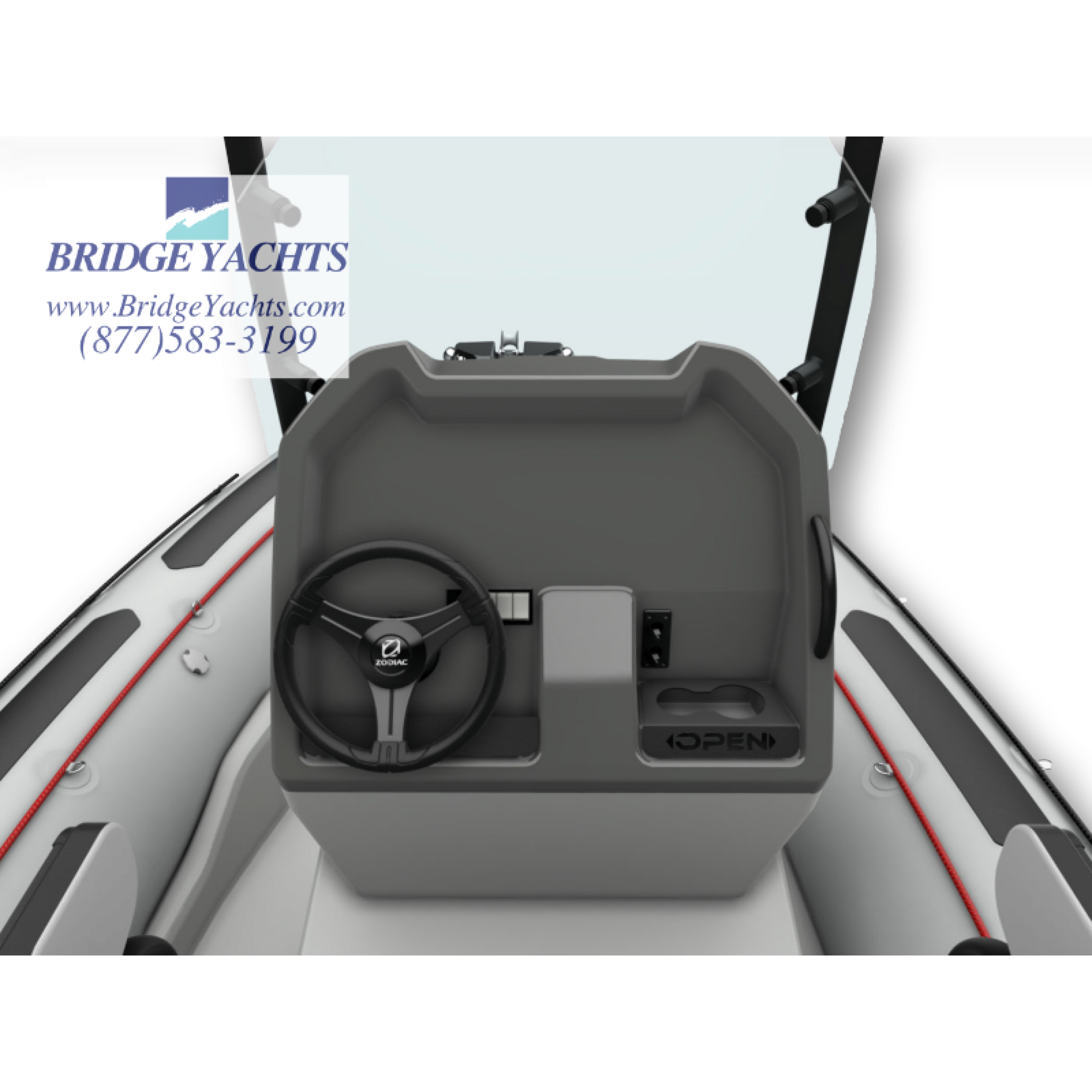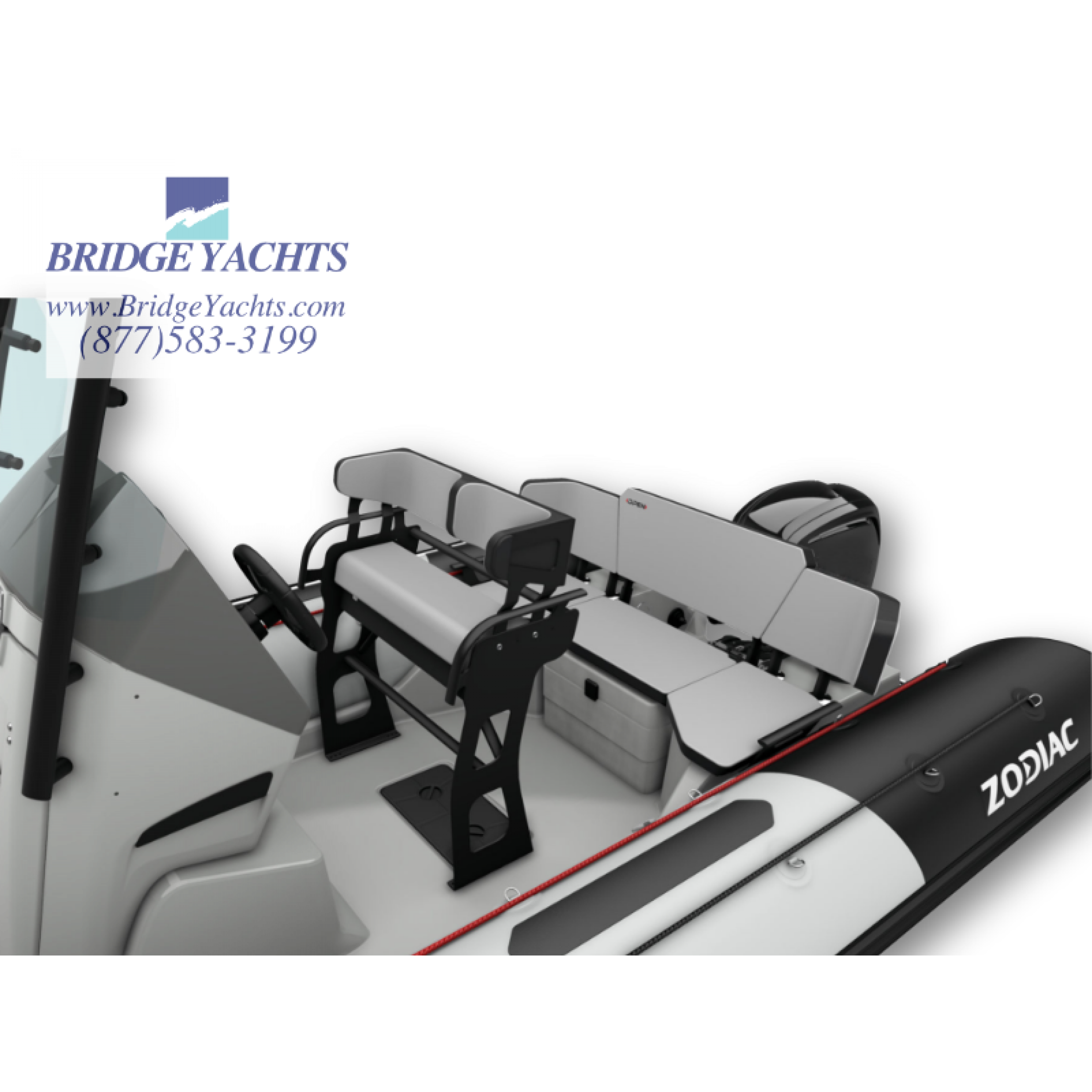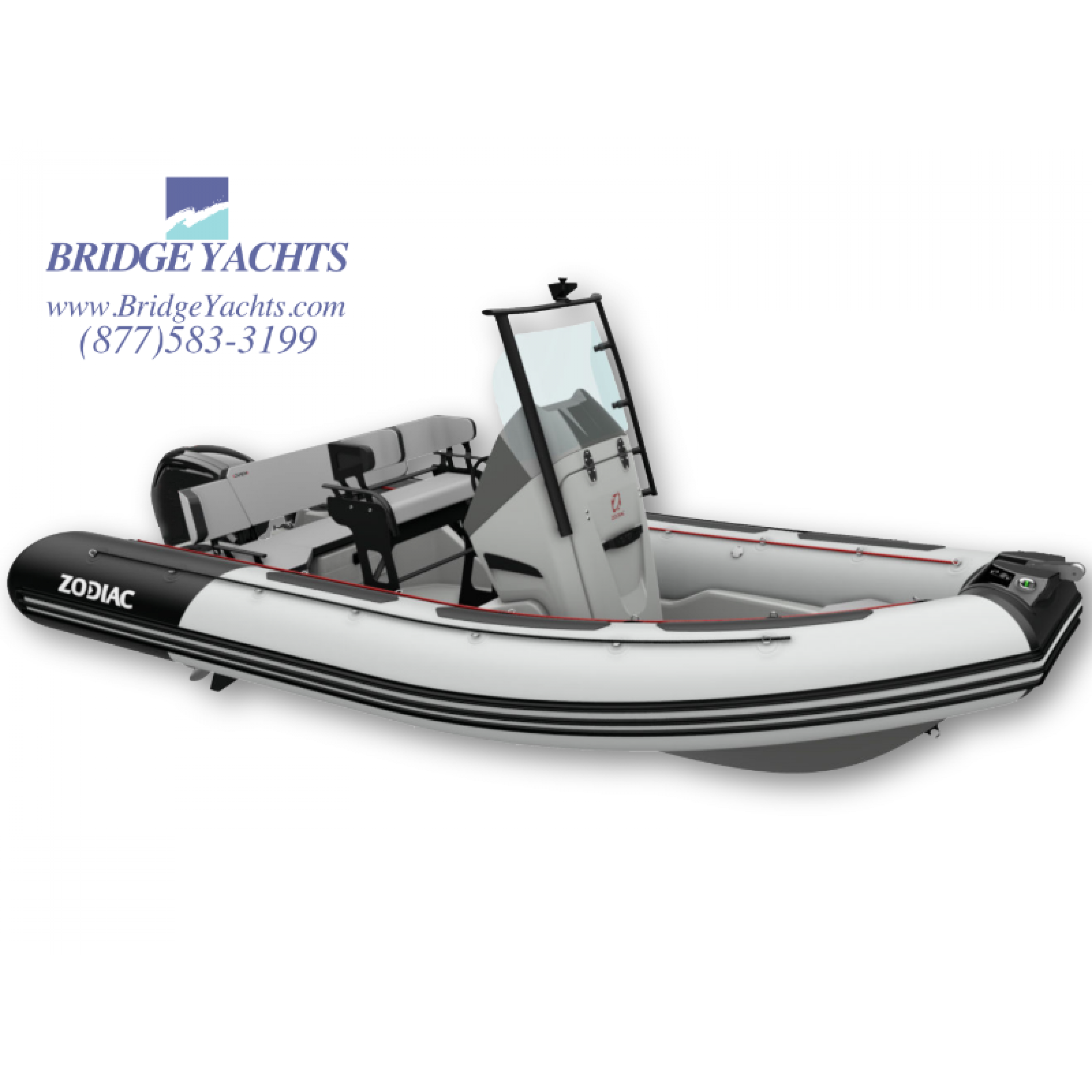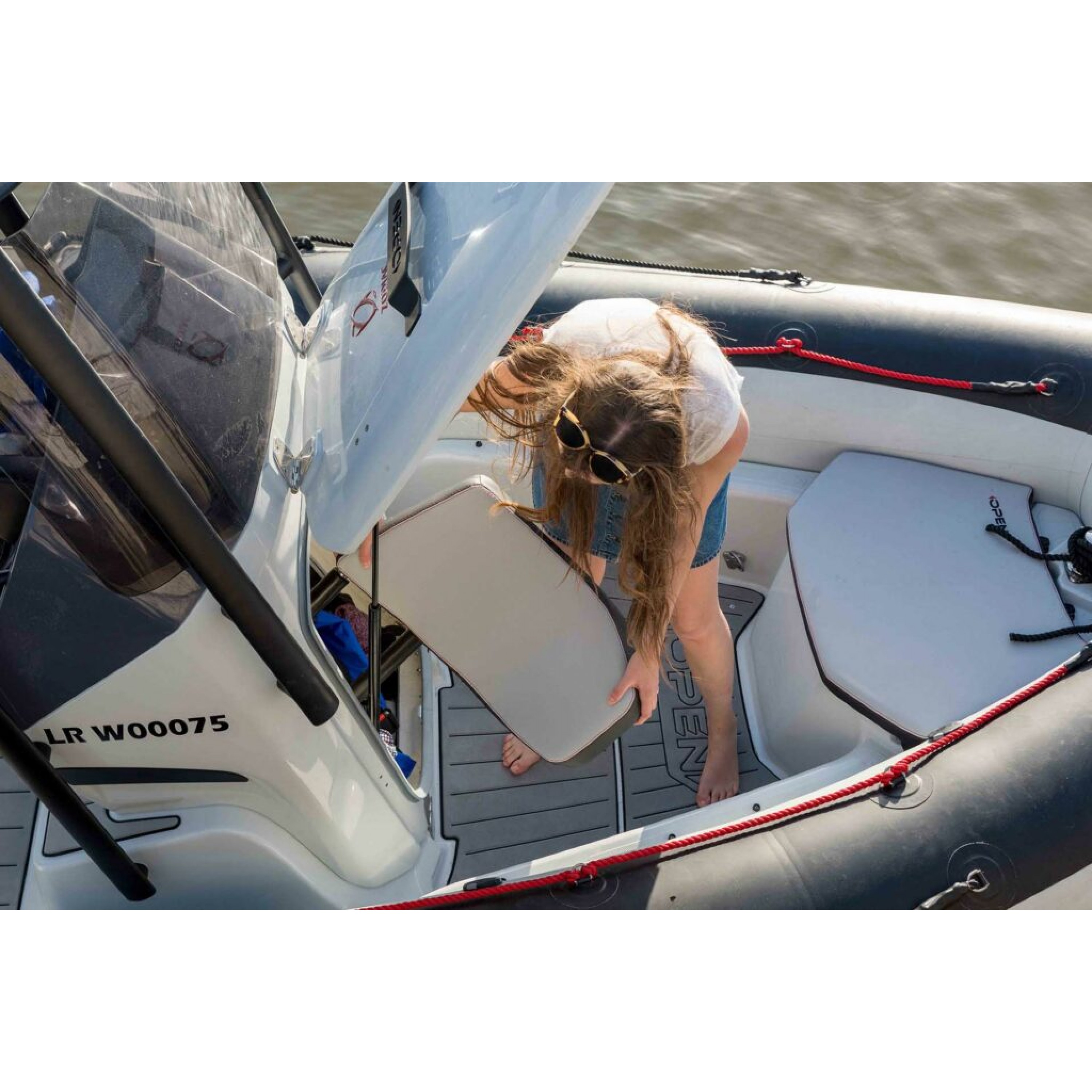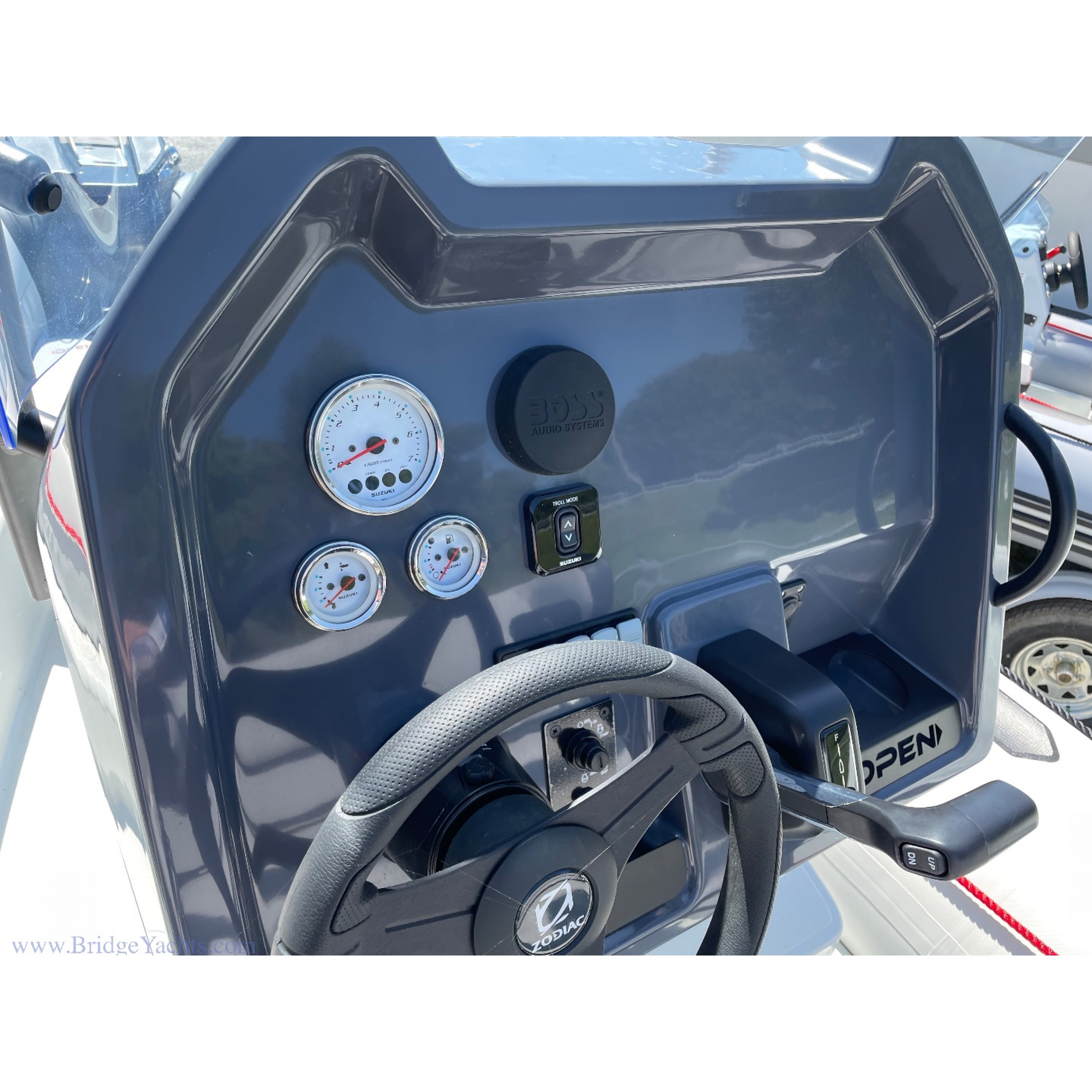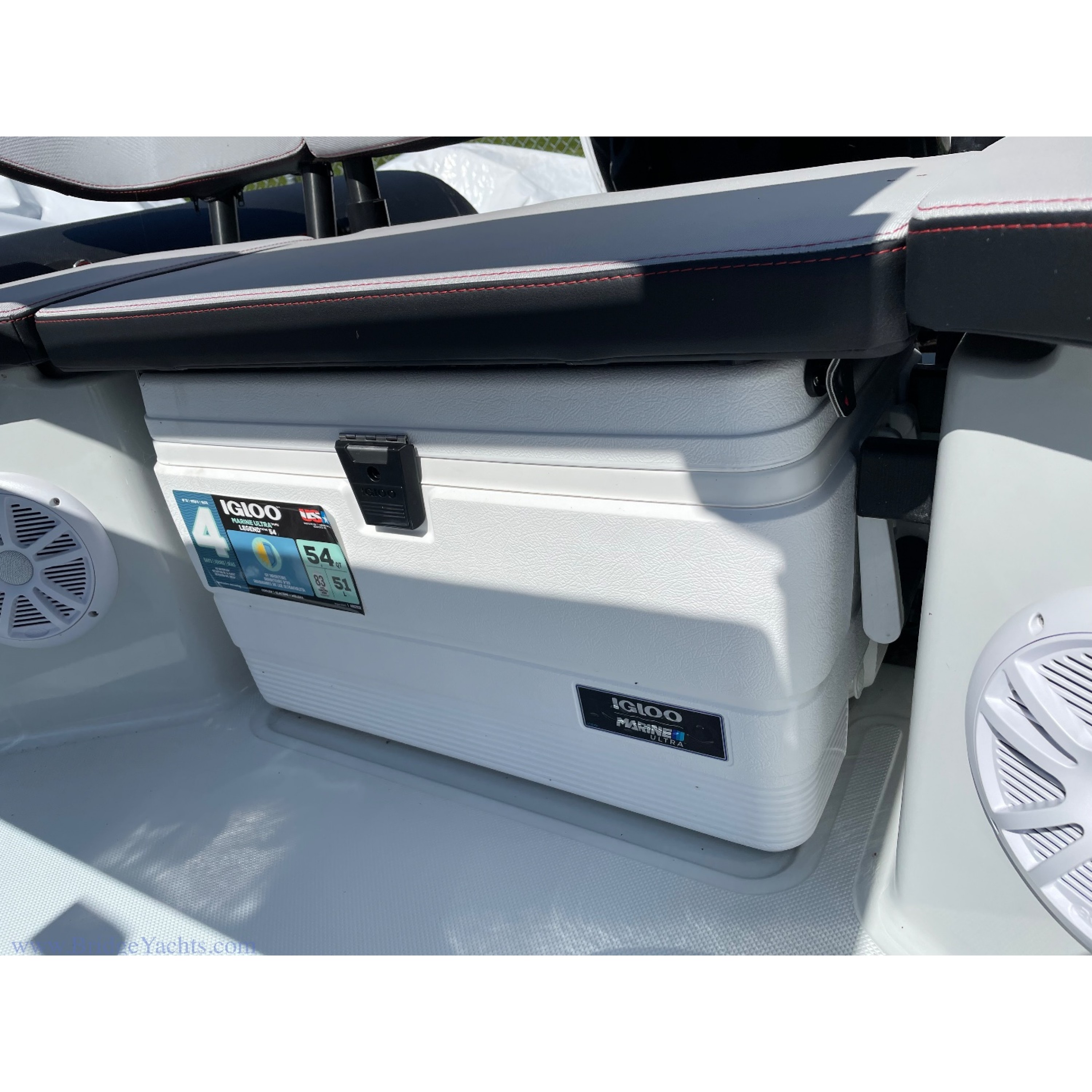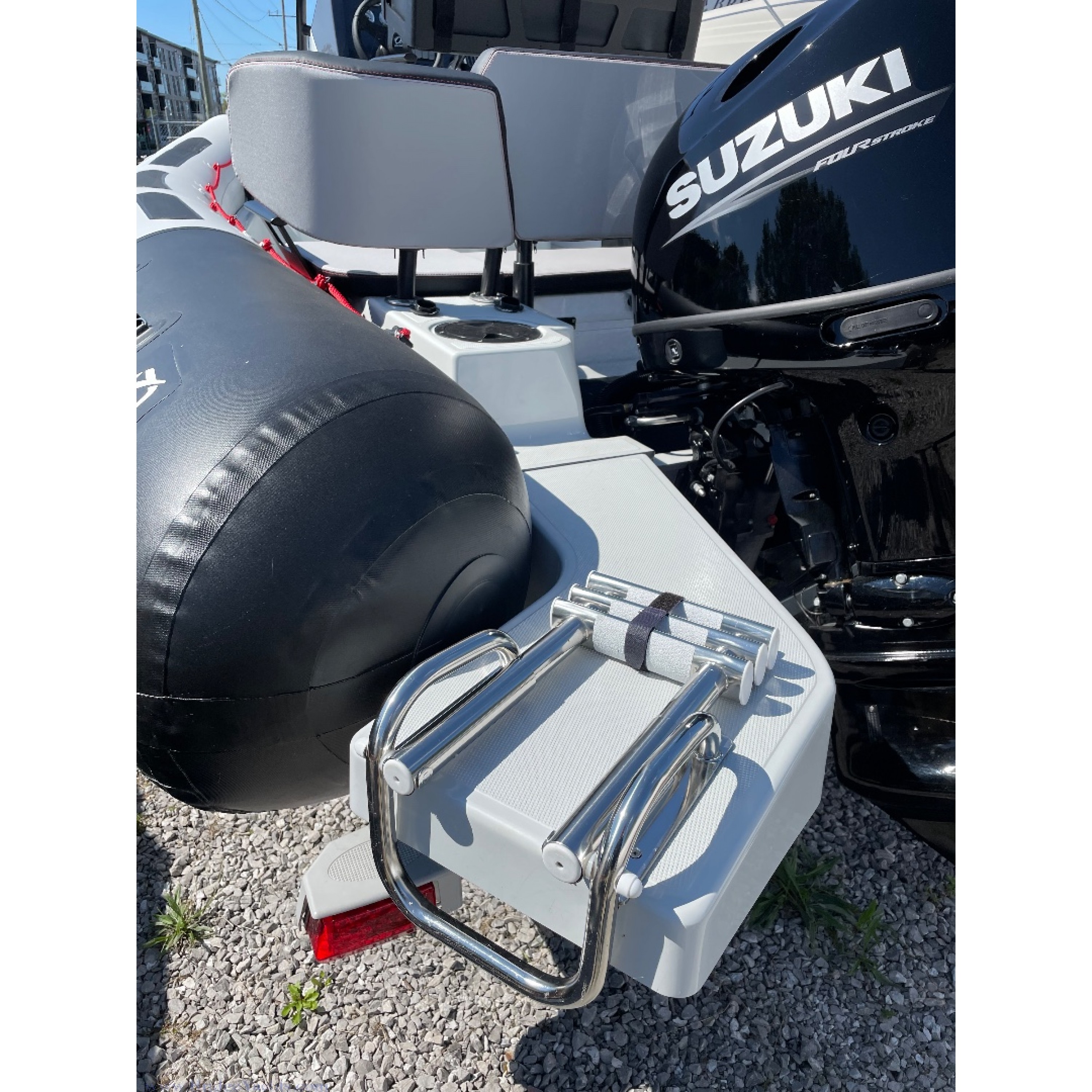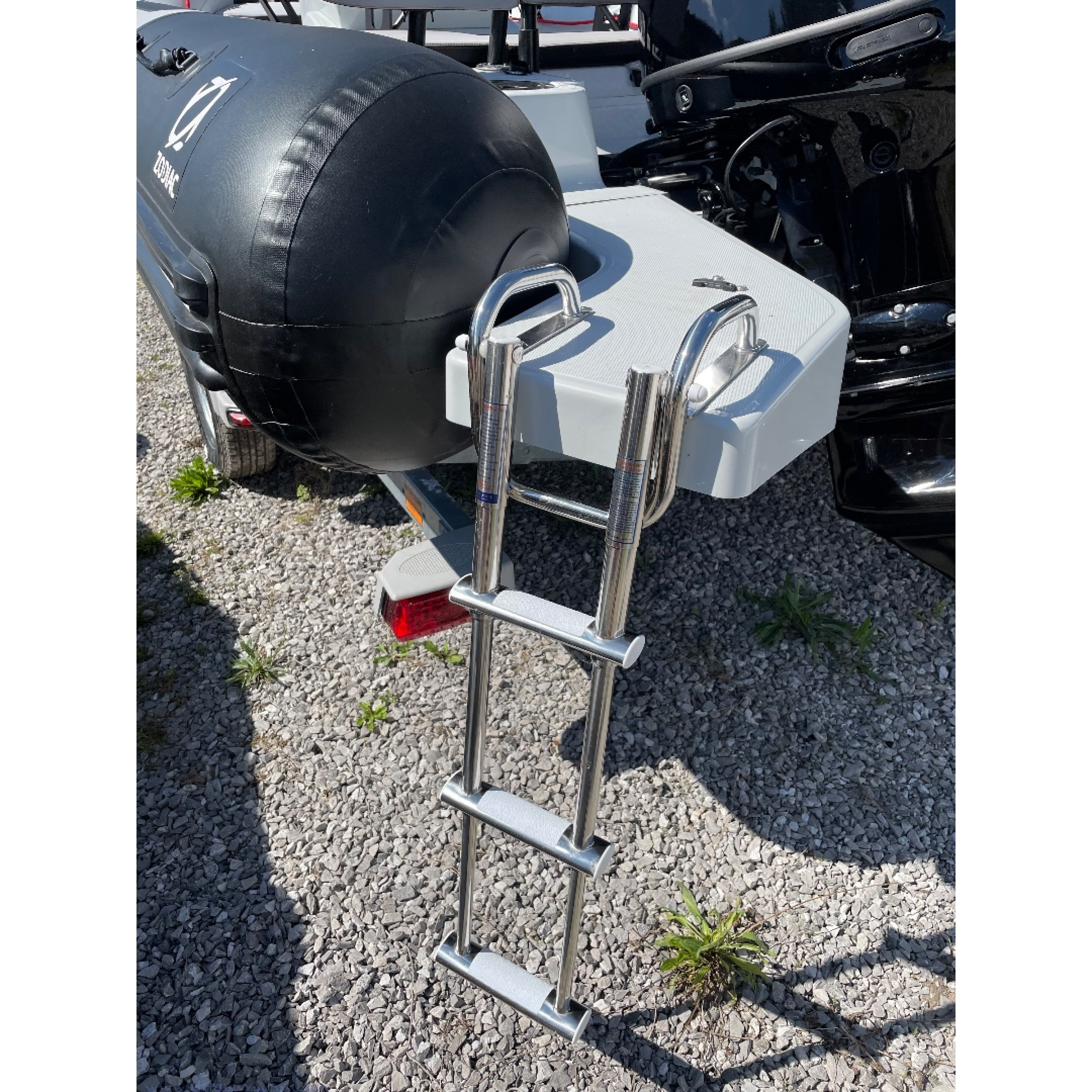 This is the boat you've been waiting for...
First and foremost, the Open Series (4.2+) use Zodiac's patented easy tube removal system providing unmatched resale value and ease of cleaning/service.
The Zodiac Open Series is the newest release from Zodiac NA. It offers deluxe comfort, superior quality, and unmatched ride performance. With the deep-V fibreglass molded hull Zodiac went back to their roots with focus on ride quality and performance. The double-wide helm bench with backrest and ample storage, fuel compartment, bow locker, and deluxe colour.
ZODIAC FEATURES INCLUDED
Dealer Installed - Zodiac Deluxe Swim-platform Extensions with Stainless Steel Reboarding Ladder
Hydraulic Steering
Zodiac Bow Cushion
Zodiac Bolster Backrest
Navigation Lights
12v USB Plug
100L Fuel Tank Capacity
Battery Switch
Bilge Pump
54L Igloo Cooler
Marine Battery Switch
EQUIPMENT INCLUDED
Suzuki DF115BTL (4-stroke, EFI, Pwr Tilt/trim)
Suzuki Tach/Monitor Gauge
Suzuki Tilt/Trim Gauge
Suzuki Fuel Gauge
Suzuki Performance WaterGrip Prop
Suzuki Binnacle Mount Shifter
Suzuki Troll Mode Function
Suzuki Fuel Water Separator
Boss Audio Marine Stereo (2speaker)
Deka 24 Series Starting Battery
Fire Extinguisher 10-B.C.
MODULARITY
Swiss army knife, at ease in all activities, the Open is considered as the seas cross-over. The versatility of this RIB has been worked out down to the last detail,
to make you living your sport passion with no limit. Thanks to its design, it is easily transportable, even within flated tube, and fits to all your passions :
getaways, fishing, waterskiing, wakeboarding, sunbathing etc. On the deck, turn your boat in a seating space or free some space for a fishing trip!
PERFORMANCE
With its excellent sea-keeping performance – thanks to its deep V-hull and its optimized deck plan for a better circulation on board, the Open offers an
exceptional navigation comfort. It'sthe perfect balance between performance and comfort. A boat conceived to safely share your passion for the sea with
friends.
STORAGE
Itsstorage optimization under the deck, accessible by the tilting console, offers a wide space for all the equipment (ski, fishing, diving, security…). Choose the
activity you want to practice according to your mood.
HULL & DECK :
1 Bow bitt /2 aftcleats, 1 Bow D ring and 2 towing rings, 2 bailers,
Fairleads, Lockable mooring compartment, Polyester deep V-hull,
Ski and wake locker, tilting console.
COMFORT :
2 Storage compartments with 12V/USB plug,
Aft bench 3 seats with modular seats, Boarding ladder,
Bolster with integrated storage, Spacious dashboard, Wrapping windshield.
Tube :
Removable tube, Cone bumper, Double hand line, Easy push valves,
Large defecting rubbing strake, Polyester bow davit+tilting sheave.
OTHER :
1 Battery switch, 1 bilge pump, 54L cooler under back seat,
Inflator with manometer, Mechanical steering, Navigation lights,
Repair kit / owner's manual.
SUZUKI DF115B SERIES OUTBOARD
HIGH PERFORMANCE & USER FRIENDLY
Suzuki introduces another innovation in creating the ultimate marine experience! The in-line 4 DF115B is user-friendly, offers high-performance, cutting-edge technology and a sleek new design that looks sharp as it cuts through the water.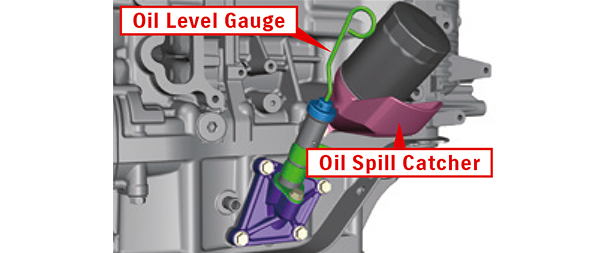 EASY MAINTENANCE
Designed to be easy to maintain for the benefits of the customers:
Easy-access oil filter: Can be replaced simply by removing the engine top cover
Oil Spill Catcher: A tray is added around the oil filter to catch oil which comes out when exchanging the oil filter
Oil Level Gauge: Able to use a 15 mm diameter oil change hose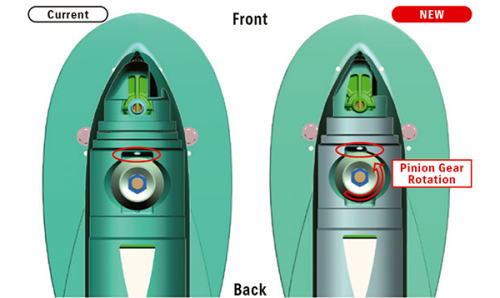 HIGH DURABILITY
An improved gear case design helps the gear oil circulate more efficiently, which lowers gear oil temperature and contributes to increased durability.
Additional Durability Features
Finally, for improved durability, the DF115B has a larger capacity fuel pump, the 02-sensor mounting position has been optimized, and a zinc bolt to prevent corrosion.
ADDITIONAL DURABILITY FEATURES
Finally, for improved durability, the DF115B has a larger capacity fuel pump, the 02-sensor mounting position has been optimized, and a zinc bolt to prevent corrosion.
NEWLY DESIGNED AIR INTAKE SYSTEM
Enhancements were made to the air intake structure on the new DF115B to:
Deliver higher power output
Increase the ability to remove water from the air entering the cowl
Decrease the air intake temperature
OFFSET DRIVESHAFT
Pioneered by Suzuki, the use of the offset driveshaft on four-stroke outboards has long been utilized to reduce the size of the outboard. Found on all Suzuki four-strokes from the DF70A and up, this design positions the crankshaft in front of the drive shaft simultaneously moving the outboard's center of gravity forward. While the design contributes greatly to the outboard's overall compactness and increased power performance, it also moves the engine's axis of inertia, the point where engine vibrations are at a minimum, up over the upper engine mount, thus greatly reducing vibration. These outboards also incorporate two-stage gear reduction designed to take maximum advantage of the power produced by these high-performance engines. Providing a large final drive ratio, it delivers powerful torque for quick acceleration and great top-end speed.
2-STAGE GEAR REDUCTION
The system incorporates the offset driveshaft as a first stage reduction between the crankshaft and driveshaft, with a second stage reduction inside the gear case, offering high torque even with big loads and power to rotate a larger propeller.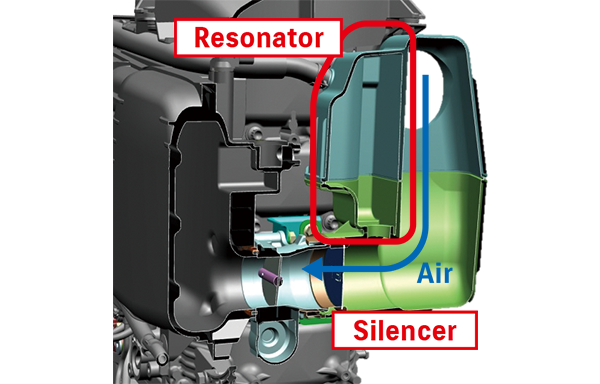 QUIET OPERATION
Intake noise is suppressed with a resonator, which makes the noise from the outboard quieter, making the boating experience more pleasant.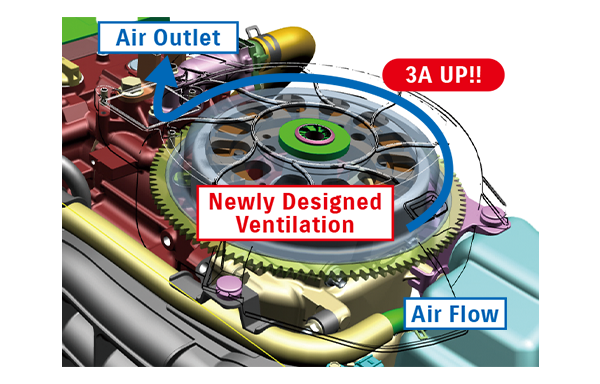 ALTERNATOR OUTPUT
A newly designed ventilation system improves cooling to the generator coils, resulting in a 3-amp increase in alternator output at idle speed.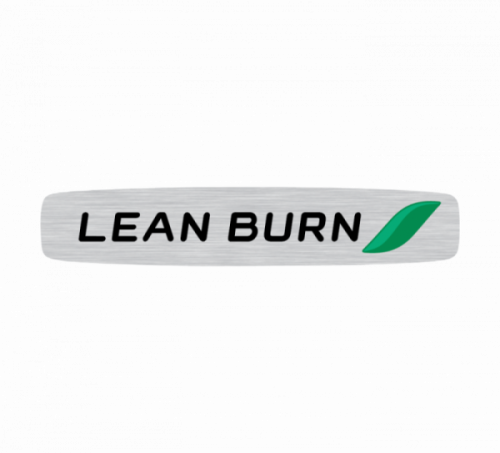 LEAN BURN CONTROL SYSTEM
Suzuki's Lean Burn Control System supplies the right mixture of fuel and air for the navigation conditions to significantly improve fuel economy in all speed ranges, especially at cruising speed.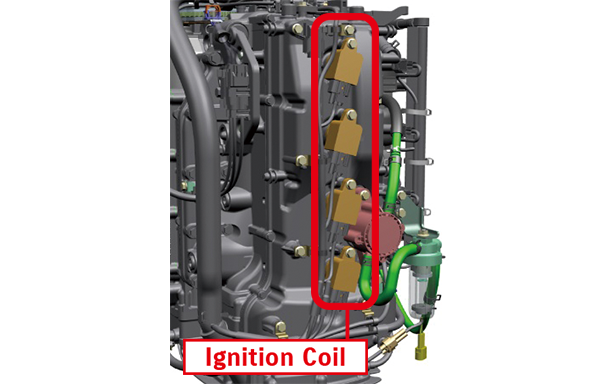 DIRECT IGNITION
Direct ignition integrates the ignition coils into the spark plug caps.
Advantage
Reduces the number of parts and simplifies the wiring system.
Removing the high-tension cord enables the ignition to generate spark efficiently, which leads to the improvement of combustion efficiency.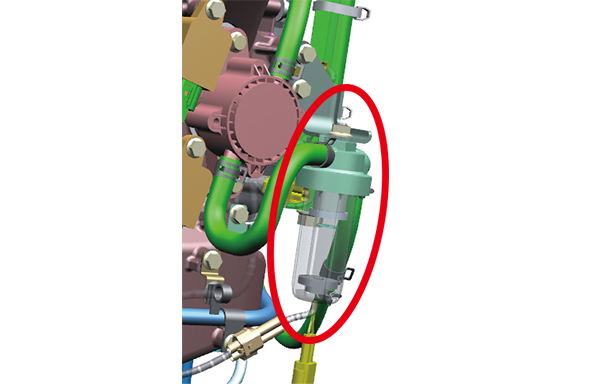 WATER DETECTING SYSTEM
The water detecting system warns the operator of the entry of water into the fuel system to improve durability and reliability. The system uses:
A bigger fuel filter than the DF115A
An optimized fuel filter position
An easy to replace fuel filter
HIGH COMPRESSION RATIO
To achieve the high compression ratio of 10.6:1, the port and piston design has been optimized.
Advantage
Generates good combustion, which improves fuel efficiency compared to other models.
The high Compression Ratio contributes to high torque.


*Product data and information provided by manufacturers.
17' 9" Zodiac Open 5.5
Stock Status:

In Stock (Call to confirm)

Brand: Zodiac Inflatable Boats
Model:

Open 5.5

SKU:

Open 5.5

MPN:

Open 5.5
Inflatable Specs
Overall Length
17' 9"
Overall Width
8' 4"
Buoyancy Tube Diameter
20"
Weight
lbs
Passengers
12
Max Horsepower
130 HP
Transom Height
20"