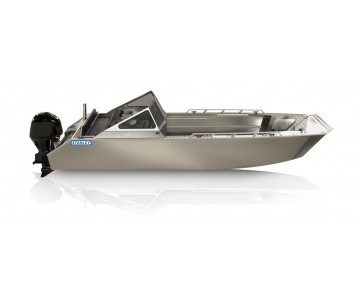 WHETHER YOUR LOAD IS PASSENGERS OR EQUIPMENT, THE PULSECRAFT WILL GET YOU THERE.

The Pulsecraft is a heavy-duty workhorse. Its modified V hull and heavy-duty framing make for a smooth ride in rough waters, even when carrying a load.
With plenty of forward space for cargo, a non-slip self draining cargo deck, and an impressive 60" bow gate for easy loading and off loading, the Pulsecraft is your pick-up-truck on the water. Standard features include side rails, stern bench with lockable storage, and adjustable pedestal seats.
Available in 22', 24', and 26' with a dual or centre console, the Pulsecraft can be configured to meet your unique cargo and passenger carrying needs.
The Pulsecraft boasts a fully welded motor bracket and 25" transom, with horsepower options ranging from 150 to 300 HP.
Cottagers and contractors alike can look to the Pulsecraft for all their boating needs- whether your load is passengers or equipment, the Pulsecraft will get you there..
There are no products to list in this category.